Coronavirus Pictures
April 23, 2020
From the heartbreaking to the heartwarming, here's what the last month looked like around the world.
1. March 21 — Venice Beach, Los Angeles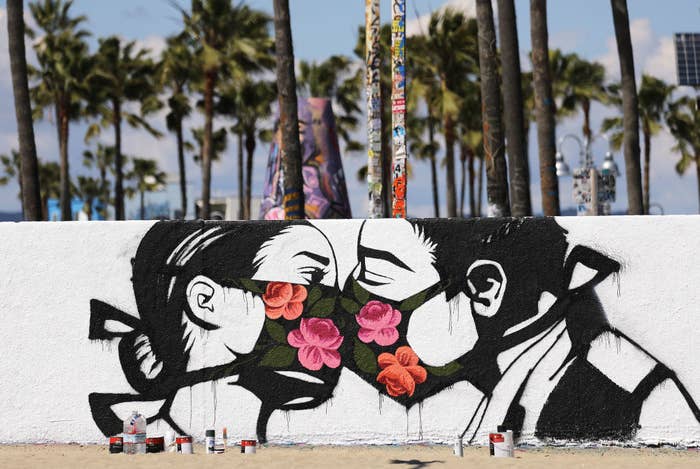 A street-art piece by artist Pony Wave on Venice Beach in California.
2. March 22 — Giussano, Italy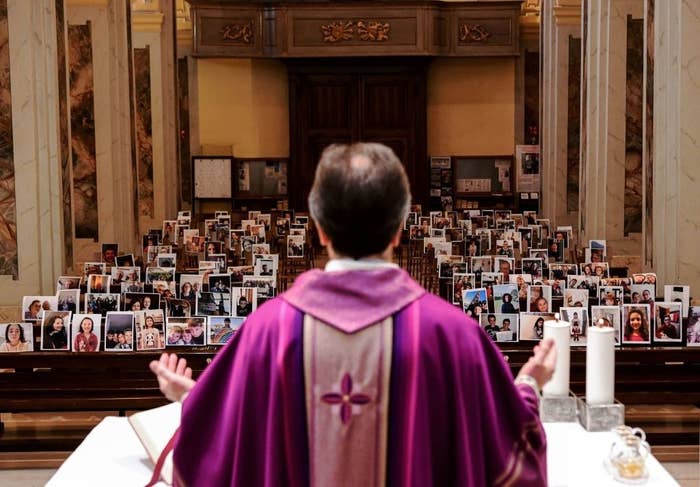 Don Giuseppe Corbari, parson of the Church of Robbiano in Giussano, Italy, holds Sunday Mass as he looks toward selfie photographs sent in by his congregation members and glued to empty pews.
3. March 23 — Wuhan, China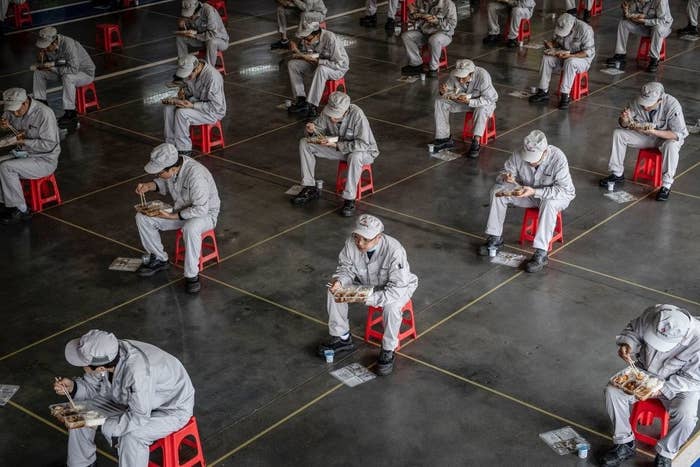 Employees eat during lunch break at an auto plant in Wuhan, China.
4. March 24 — Vienna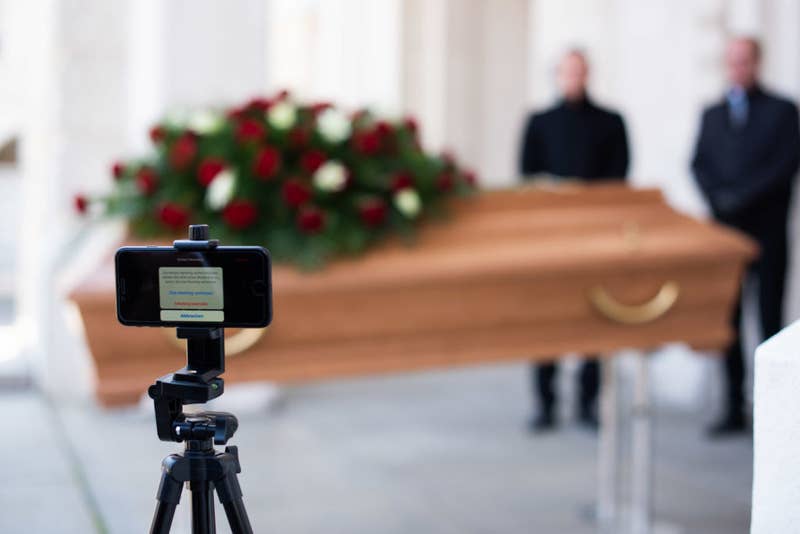 Undertakers rehearse the livestreaming of an upcoming funeral in Vienna; gatherings of more than five people were temporarily banned.
5. March 25 — New York City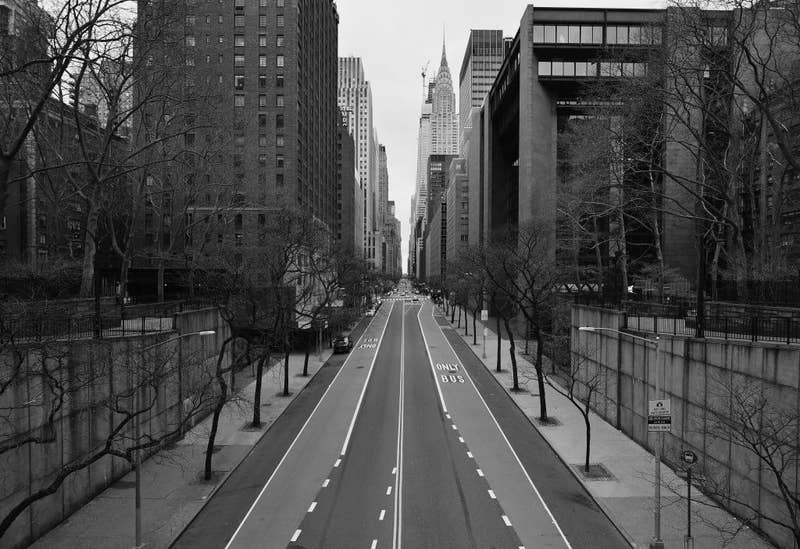 A nearly empty 42nd Street in New York City.
6. March 26 — Ponte San Pietro, Italy

Thirty-five coffins containing corpses are stored in a warehouse in Ponte San Pietro, near Bergamo, Lombardy, prior to being transported to another region for cremation.
7. March 27 — São Paulo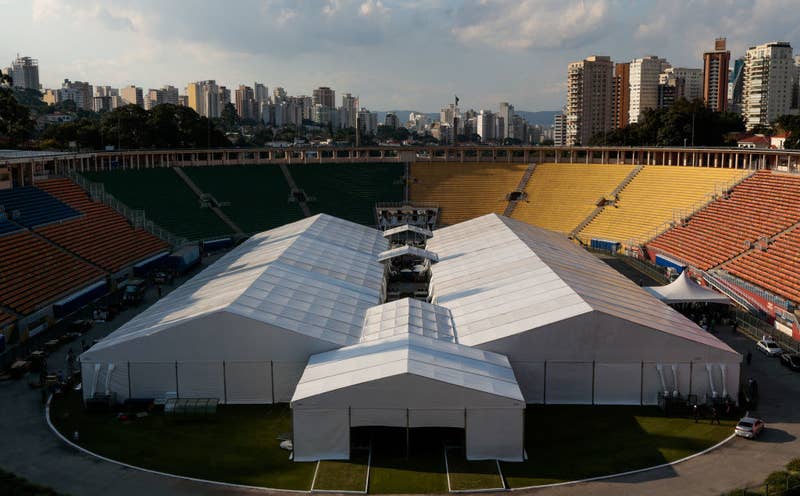 An emergency makeshift field hospital is set up at Pacaembu Stadium in São Paulo for coronavirus patients.
8. March 28 — Ghaziabad, India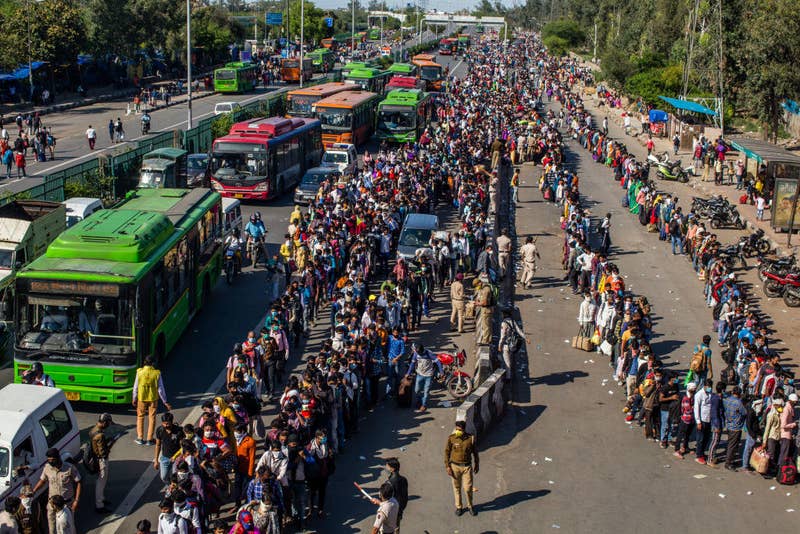 On the outskirts of New Delhi, crowds of Indian migrant workers wait to board buses to return to their native villages following a nationwide lockdown.
9. March 29 — Escobedo, Mexico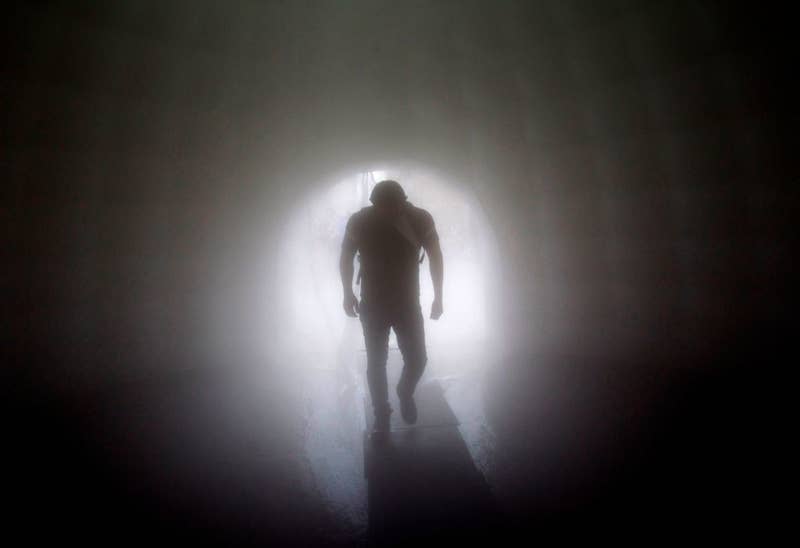 A man walks through a sanitizing tunnel installed outside a subway station in Escobedo, Nuevo León, Mexico.
10. March 30 — Greater Cairo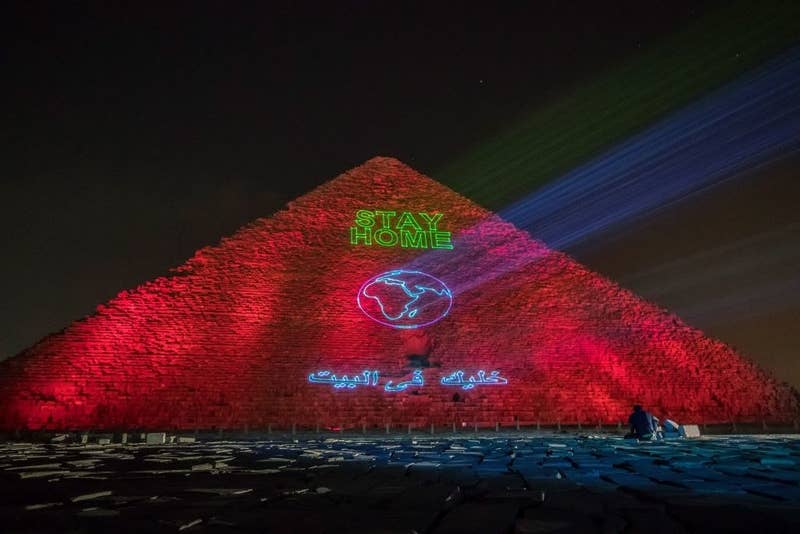 "Stay home" is projected onto the Great Pyramid of Giza outside Cairo.
11. March 31 — Llandudno, Wales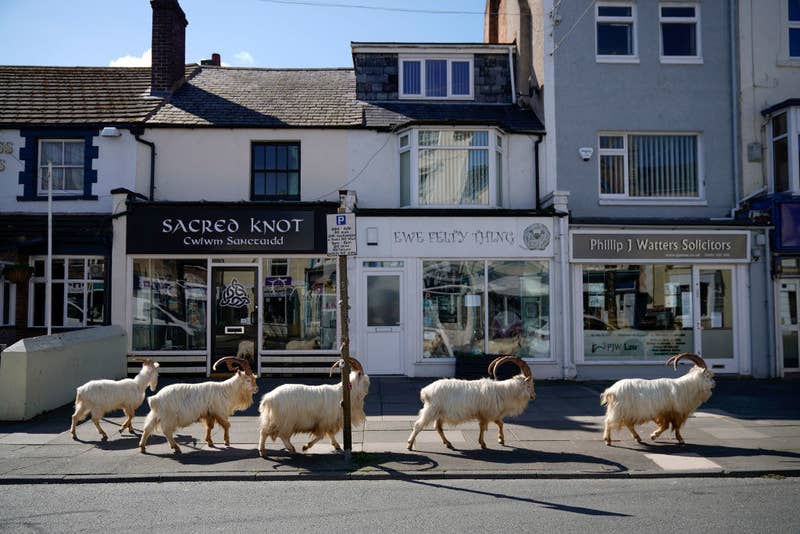 Mountain goats, which normally live on the rocky Great Orme, roam the streets of Llandudno, Wales, drawn to the seaside town by the lack of tourists and other people.
12. April 1 — São Paulo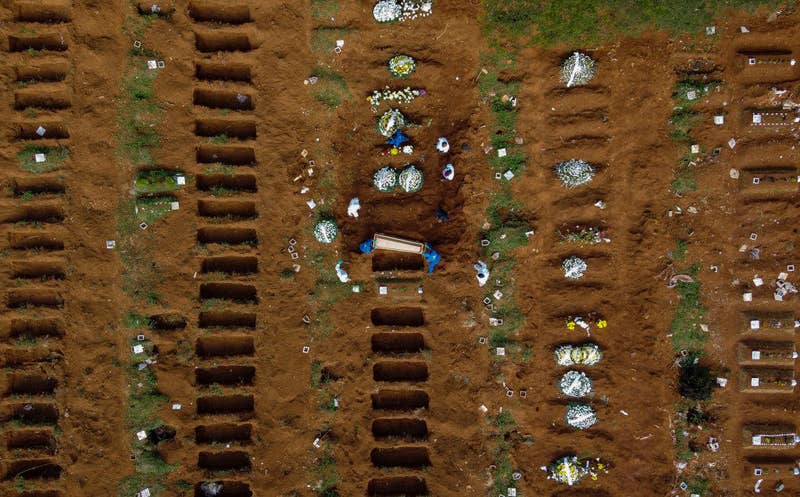 An aerial view of Vila Formosa cemetery during a burial amid the coronavirus pandemic in São Paulo.
13. April 2 — Chennai, India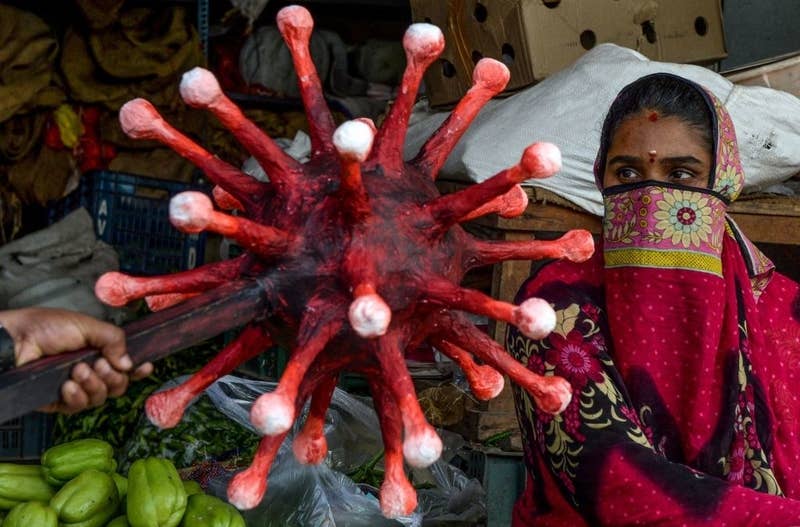 A police officer wearing a coronavirus-themed outfit gestures toward a vendor at a market in Chennai, India, to raise awareness about social distancing.
14. April 3 — Bergamo, Italy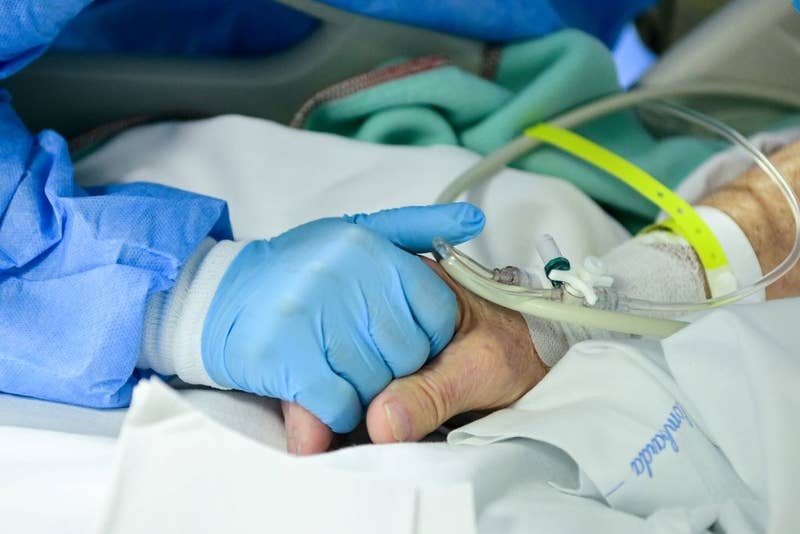 A member of the medical staff holds the hand of a patient infected by the coronavirus at the ASST Papa Giovanni XXIII hospital in Bergamo, Italy.
15. April 4 — Heerlen, the Netherlands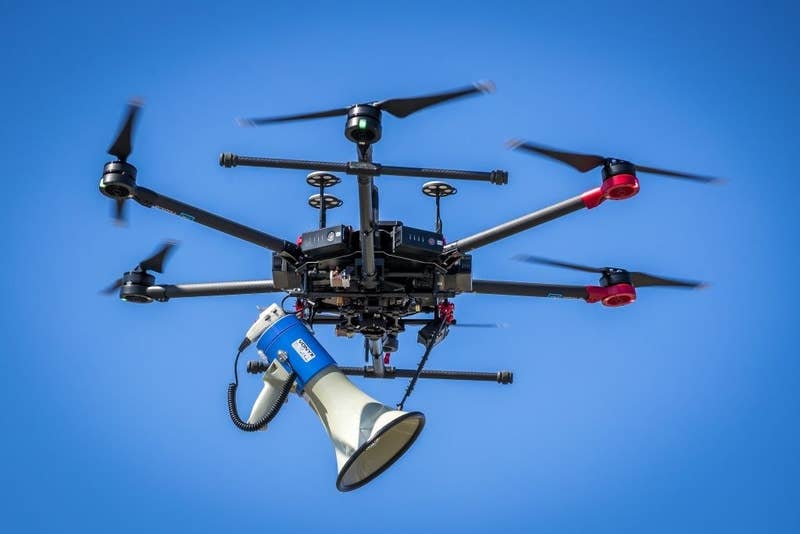 Police use a drone with a built-in speaker to ask people to respect social distances at a shopping boulevard in Heerlen, the Netherlands.
16. April 5 — Manila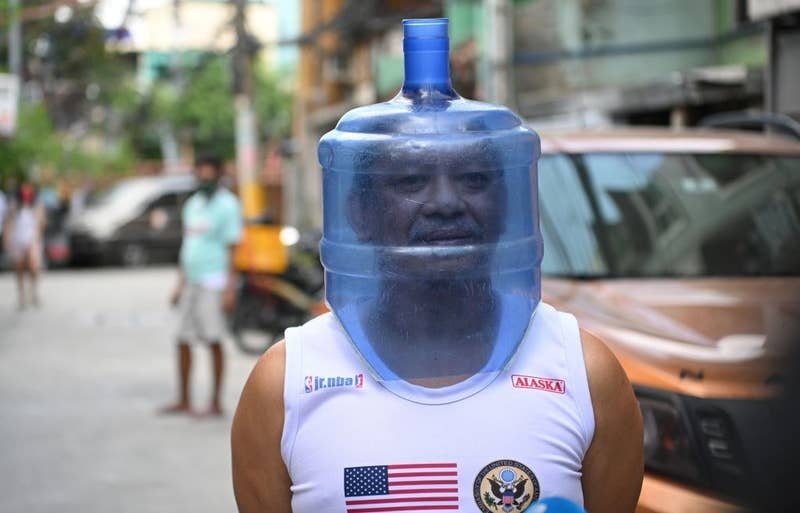 A resident using an improvised face shield made from a plastic water tank walks in his neighborhood in Manila.
17. April 6 — Guayaquil, Ecuador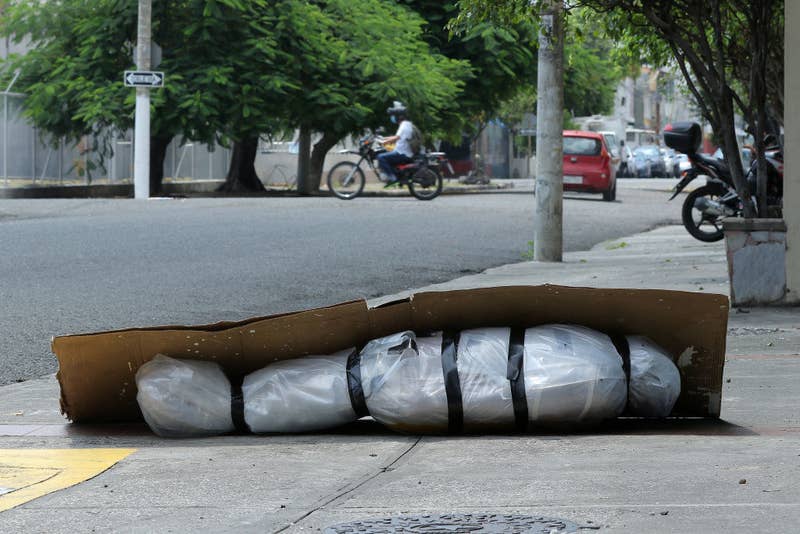 An abandoned corpse wrapped in plastic and covered with cardboard lies on the sidewalk in Guayaquil, Ecuador.
18. April 7 — Kenosha, Wisconsin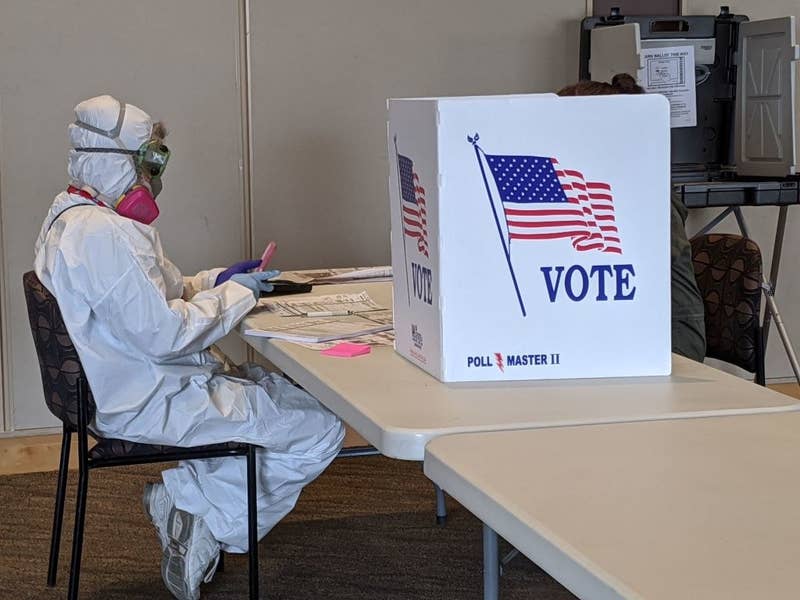 Elections Chief Inspector Mary Magdalen Moser runs a polling location in Kenosha, Wisconsin, in full hazmat gear as the Wisconsin primary takes place despite a statewide stay-at-home order.
19. April 8 — Mecca, Saudi Arabia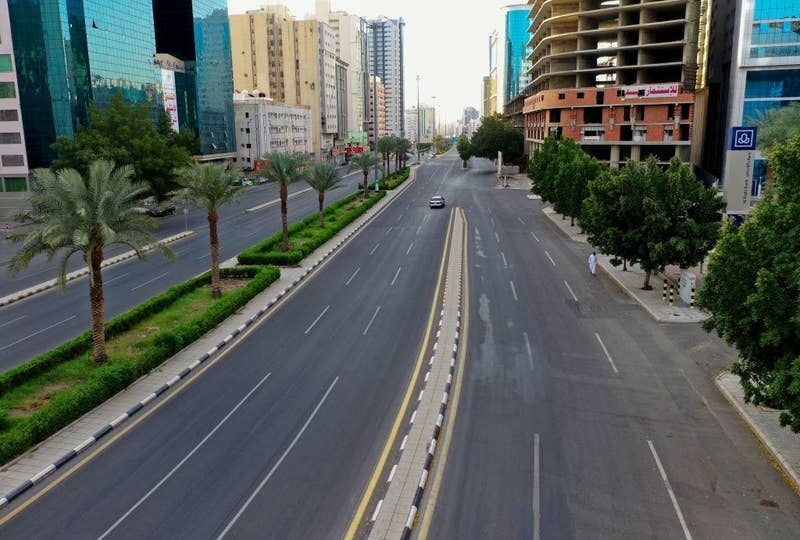 A deserted boulevard in the Saudi holy city of Mecca.
20. April 9 — Bangkok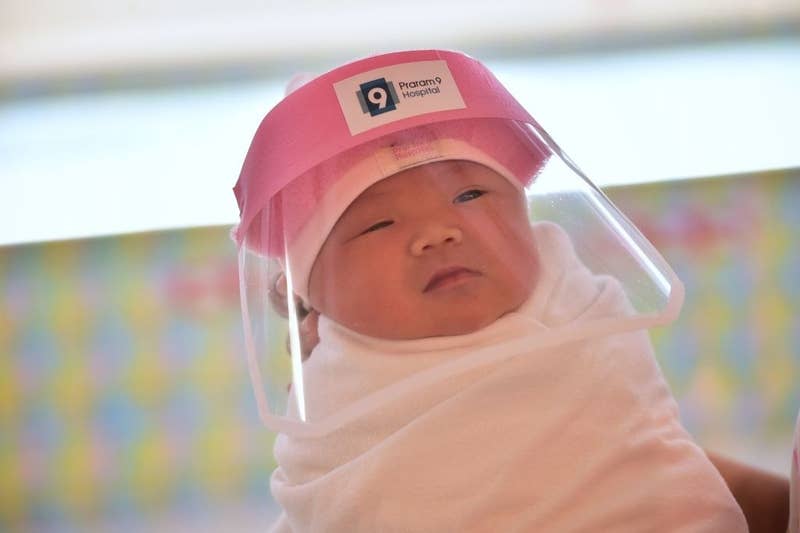 A newborn baby wears a face shield at Praram 9 Hospital in Bangkok.
21. April 10 — Vatican City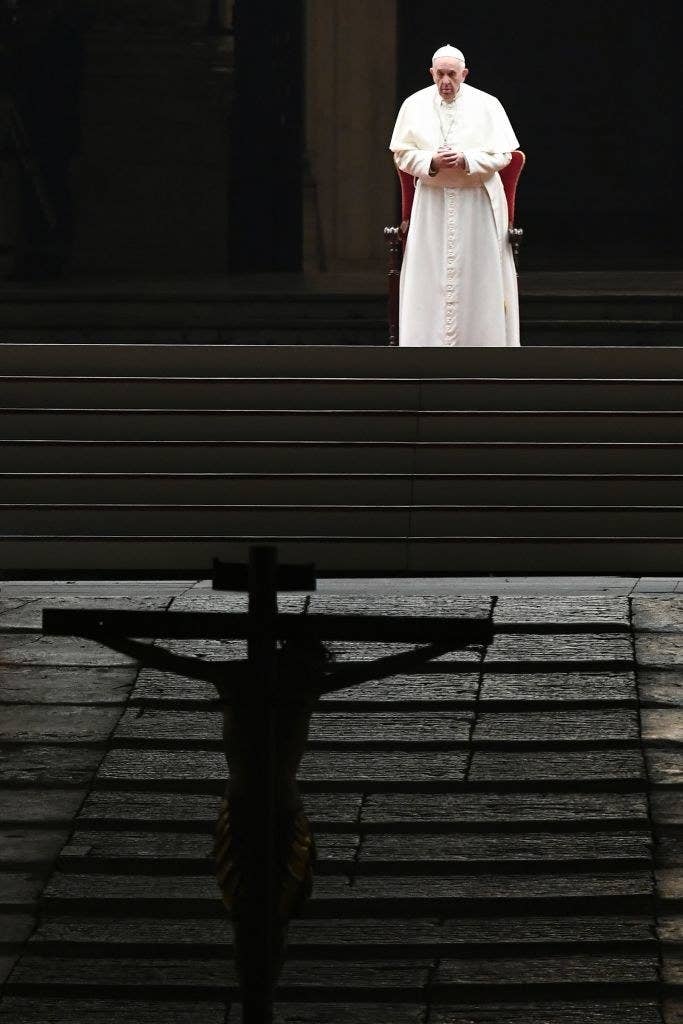 Pope Francis presides over Good Friday's Way of the Cross in St. Peter's Square at the Vatican.
22. April 11 — Troyes, France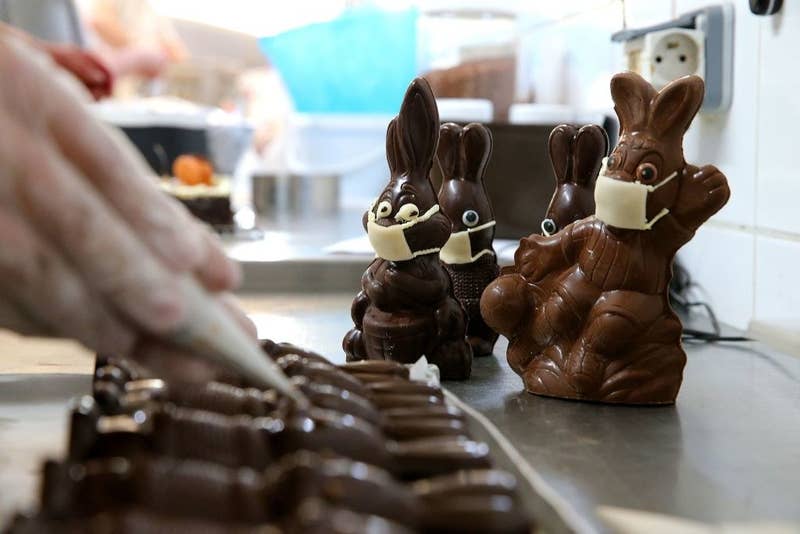 A chocolate-maker in Troyes, France, finishes Easter chocolate rabbits wearing face masks.
23. April 12 — Rio de Janeiro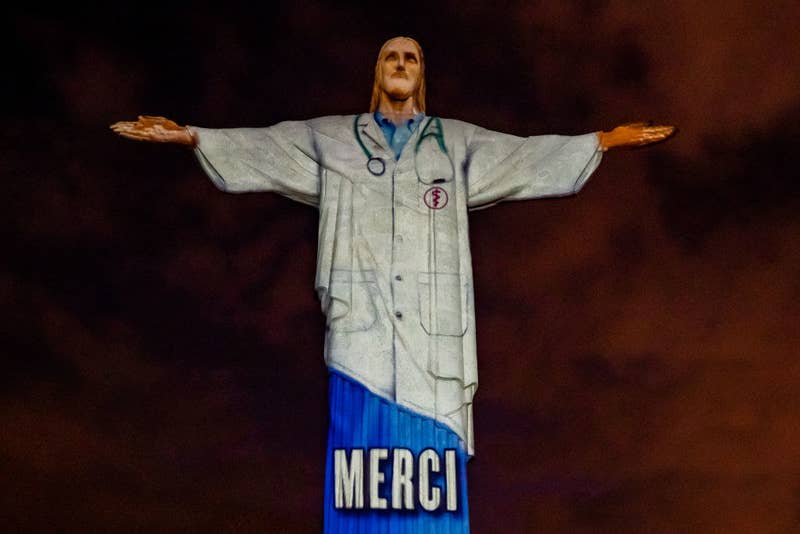 An illuminated Christ the Redeemer statue reads "Thank you" as the archbishop of Rio de Janeiro performs a Mass honoring medical workers amid the pandemic.
24. April 13 — Miami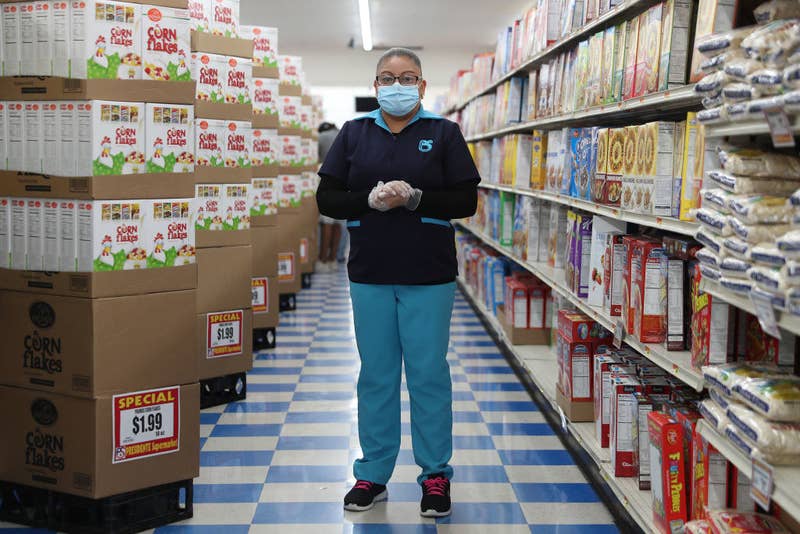 Lorena Martinez, on the front lines of the coronavirus pandemic, wears a mask and gloves while working at the Presidente Supermarket in Miami.
25. April 14 — Paris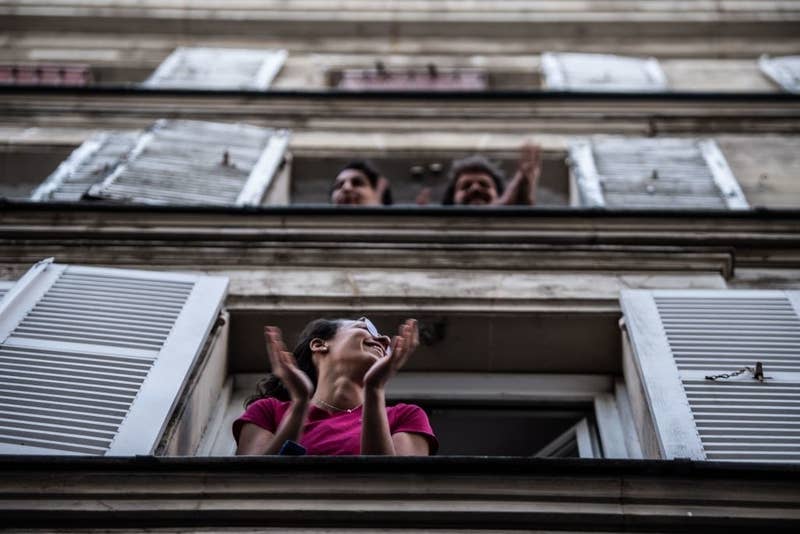 Parisians applaud at 8 p.m. along with others across France to show their support for health care employees.
26. April 15 — Roche-la-Molière, France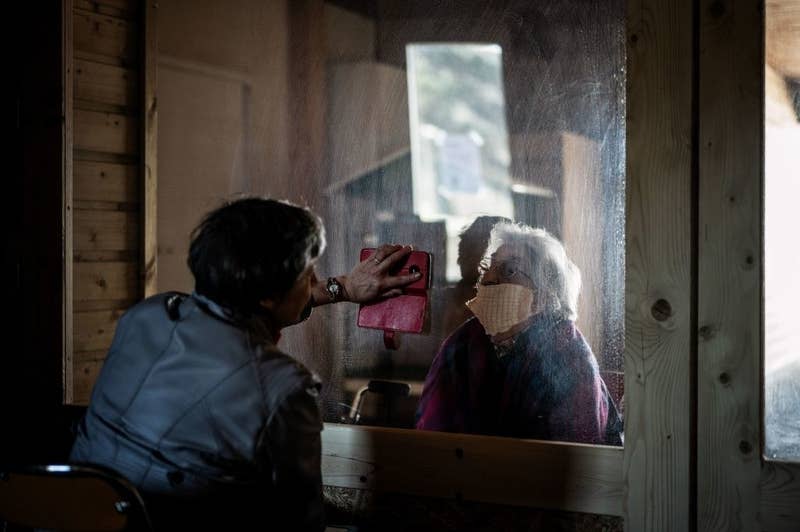 A woman talks with her mother and shows her pictures through a window under a porch converted into a visiting room for the relatives of the residents of a retirement home in Roche-la-Molière, France.
27. April 16 — Beit Lahia, Gaza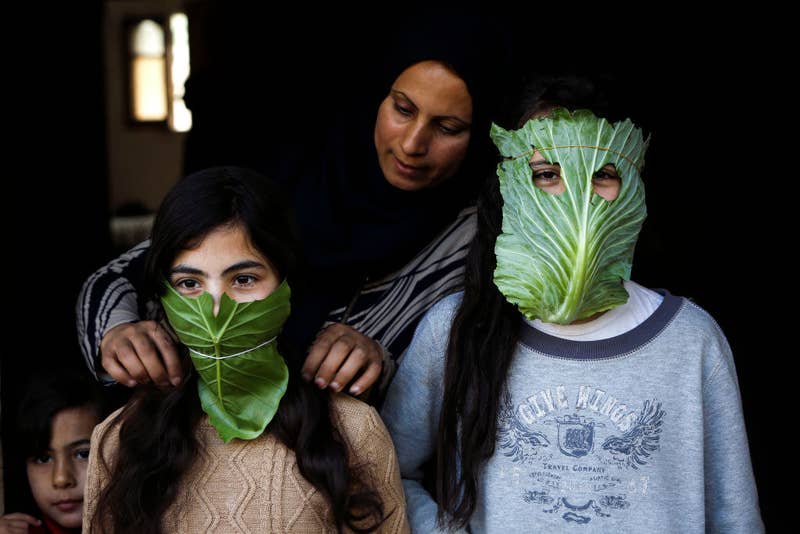 A Palestinian mother entertains her children with makeshift masks made of cabbage as she cooks in Beit Lahia, Gaza.
28. April 17 — Taipei, Taiwan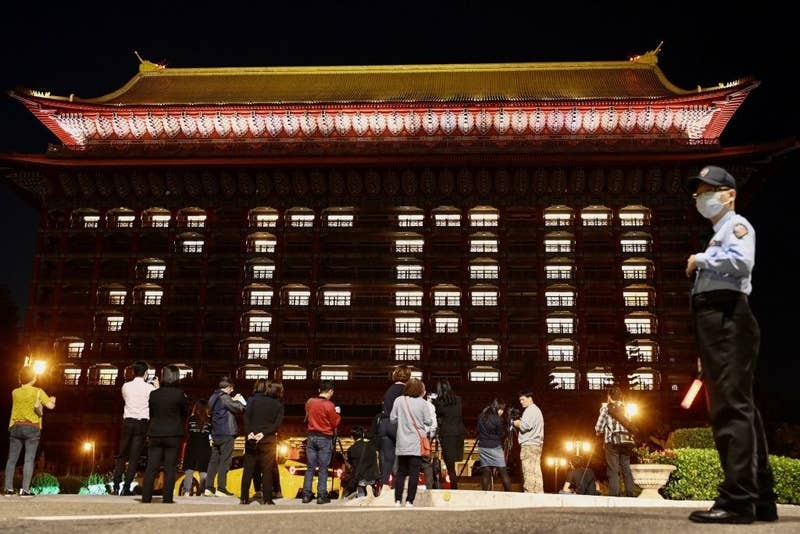 The rooms at the Grand Hotel in Taipei are illuminated to form the word "zero" after Taiwan reported no new coronavirus cases for two consecutive days.
29. April 18 — Austin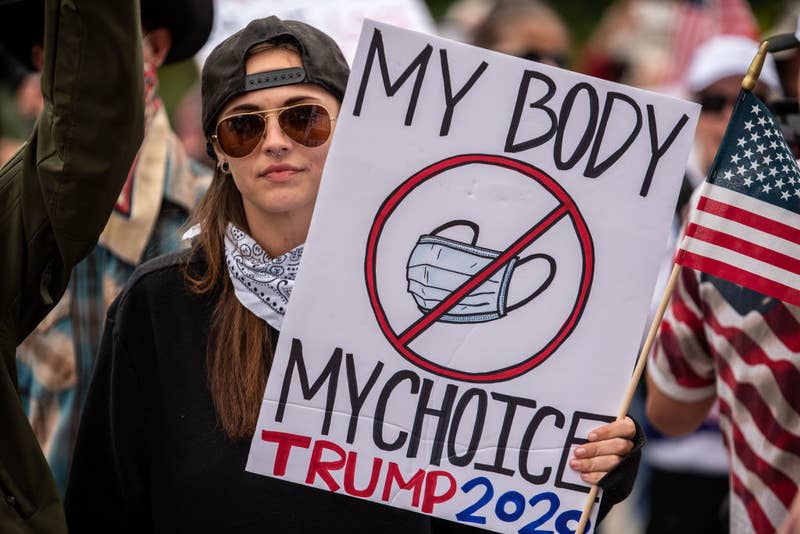 A protester holds up a sign protesting wearing a mask at the Texas Capitol in Austin.
30. April 19 — Denver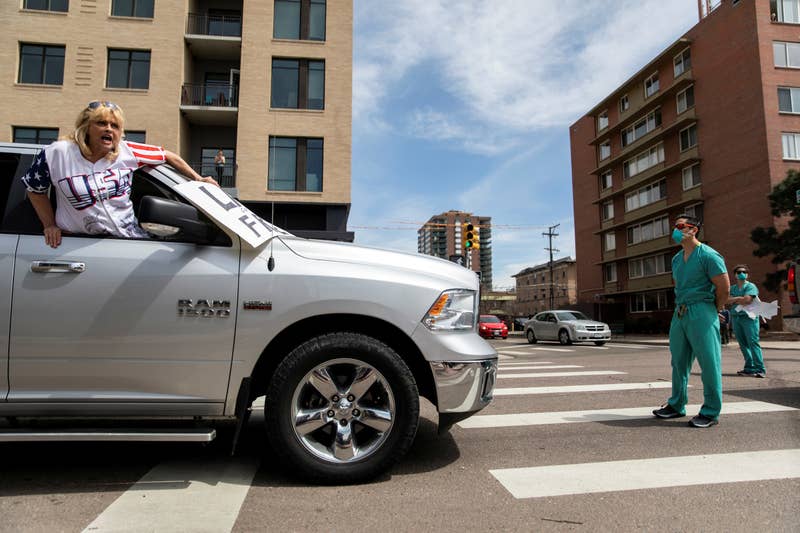 Health care workers stand in the street in counterprotest of hundreds of people who gathered at the state Capitol in Denver to demand that the stay-at-home order be lifted.
31. April 20 — New York City
Two health care workers wear protective masks in New York City.